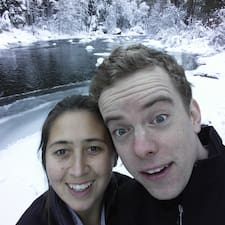 We had a wonderful stay with Mark and Tammy at their ranch. They were absolutely top quality hosts, and this stay genuinely feels like a proper bed and breakfast.
AirBnB has a lot of really basic, barebones, boring, sterile apartments and hotel equivalents, and we've stayed in a ton of them, but this is not that. This is a huge private loft, a remote ranch, friendly hosts, cute animals, and excellent food prepared by chef Tammy. - The room itself is away from the host's house - Very safe and comfortable - The bed is very comfy and large - No kitchen, but the fridge, table and coffee area are great - Really excellent place for dogs - Smart TV was great, not in the pictures - Shower is excellent, but smells like iron,
Final note is to plan any trip to Lake County very carefully if you have an electric vehicle. We had one and it was *rough*. There are a couple chargers in town but they're slow, and it's hard to find things to do while waiting hours for a charge.