In The News
Dancing Poly Farm & Food Changes Hands: Welcome The Ripe Choice to Lake County March 9, 2020 Read the complete article about
The Ripe Choice Farm and Catering on the Lake County Bloom
.
---
Southbay Magazine - June 2020
---
Southbay Magazine The Ripe Choice Catering and Executive Chef & Owner Tammy Lipps profiled in Southbay Magazine's August 2018 edition.
Shrimp-stuffed avocados with fresh mango
---
Featured on the cover of Catersource Magazine
---
Southbay Magazine An article by Laura Watts about The Ripe Choice Catering and Executive Chef & Owner Tammy Lipps appeared in Southbay Magazine's November 2016 edition.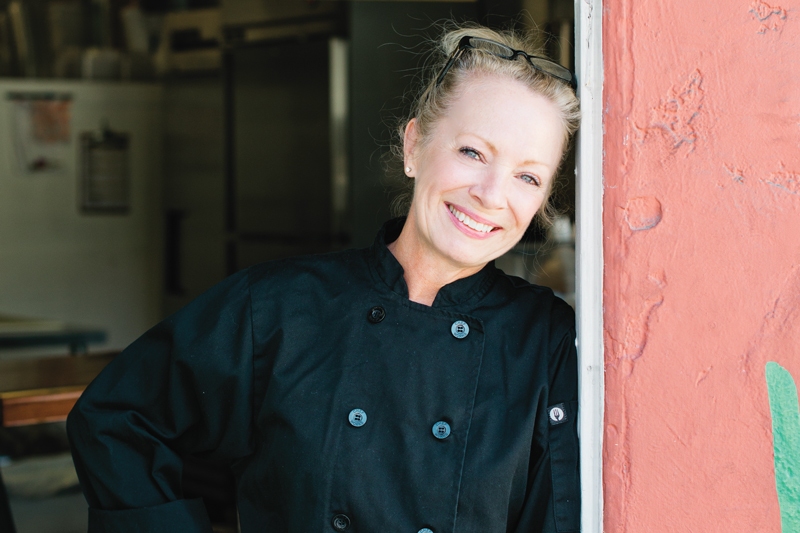 Tammy Lipps outside the Ripe Choice catering kitchen and Ripe To Go take out.
The Ripe Choice catering company creates unique menus for private dinner parties, screenings, gallery openings, red carpet affairs, backyard BBQs, beach picnics, weddings and corporate events. Although The Ripe Choice specializes in custom catering and creates whatever food the client requests, the team's go-to culinary style is California healthy and seasonal cooking—using what is good when it's at its best.
Read the full article at the oursouthbay.com which includes a recipie for Tammy's Autumn Harvest Vegetarian Salad.
---
The Easy Reader (February 2014) Thirteen years ago, Manhattan Beach resident Tammy Lipps started a custom catering company called The Ripe Choice in her home.
Cooking, creating menus and working with food had always been a deep-rooted passion for the mother of three. It's been about a year and a half since she opened her storefront kitchen on the north end, just steps from Highland Avenue. Dressed in a white chef coat and her blond hair tied back in a ponytail, Lipps is the star of this nearly three-minute YouTube video. In it, she talks about her business — how she uses the freshest ingredients, picked personally from local sources, and caters for private parties and cooks and delivers meals for homes.
"I really enjoy helping people with their vision for their event," she says, "being able to help them bring that whole package together."