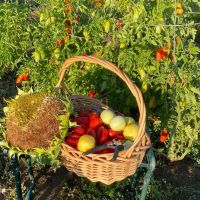 Perfect trip solo, with your lover, your BFF, or even your dog!
Luckily the weather was nice, so we played some basketball, hugged piglets Rose&Bud, gave some love to the chickens, chilled in the hammock, chased the doggos Chief+Annie, & spotted the huge tortoise!! & as recommended by everyone else, I am here to reiterate that you shall order at leasttttt a breakfast meal while you're visiting. We fully enjoyed dinner, but I mean the breakfast...hands down a D-E-L-I-G-H-T.
The loft was spacious, relatively warm even when the weather was cold, space heaters were 100% effective. We went wine tasting, olive oil tasting, and ordered pizza for takeout. The TV, roku, portable speaker, fridge, and microwave were greatly appreciated.
Don't forget to step outside once it gets dark, the stars are marvelous.
Thank you Tammy & John for sharing your beautiful space with others!"