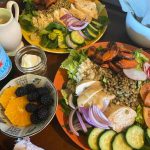 The farm had chickens, little rescued pigs, some older dogs, and a very large tortoise. The owners were very nice, and even allowed us to feed a little bit of fresh veggies to the pigs and tortoise. Their farm had vineyards, and orchard (apple, peach and a very large persimmon tree).
We ordered from their catering service, dinner the night we arrived and breakfast the next morning before we took off. OMG the food tasted, looked, and smelled absolutely wonderful. Fresh farm ingredients cooked and delivered directly to my table. We have been speaking about their food nearly everyday sense.
Highly recommended. The site was easy to get into and out, level enough we did not have to use blocks, and it was great looking out our windows and seeing the animals.