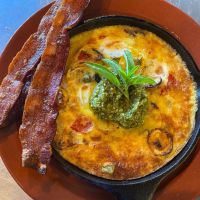 We stayed here in our 35 ft Class A.
The owners are exceptionally nice and welcoming. They showed us around their farm, and introduced us to their animals including chickens, miniature pigs, a tortoise and their two dogs. They then allowed us to let our dog roam free in their fenced off farm.
We ordered breakfast and it was delivered to our door. It was delicious, and enough food to last a couple of days!
If you get the chance, be sure to stay here!